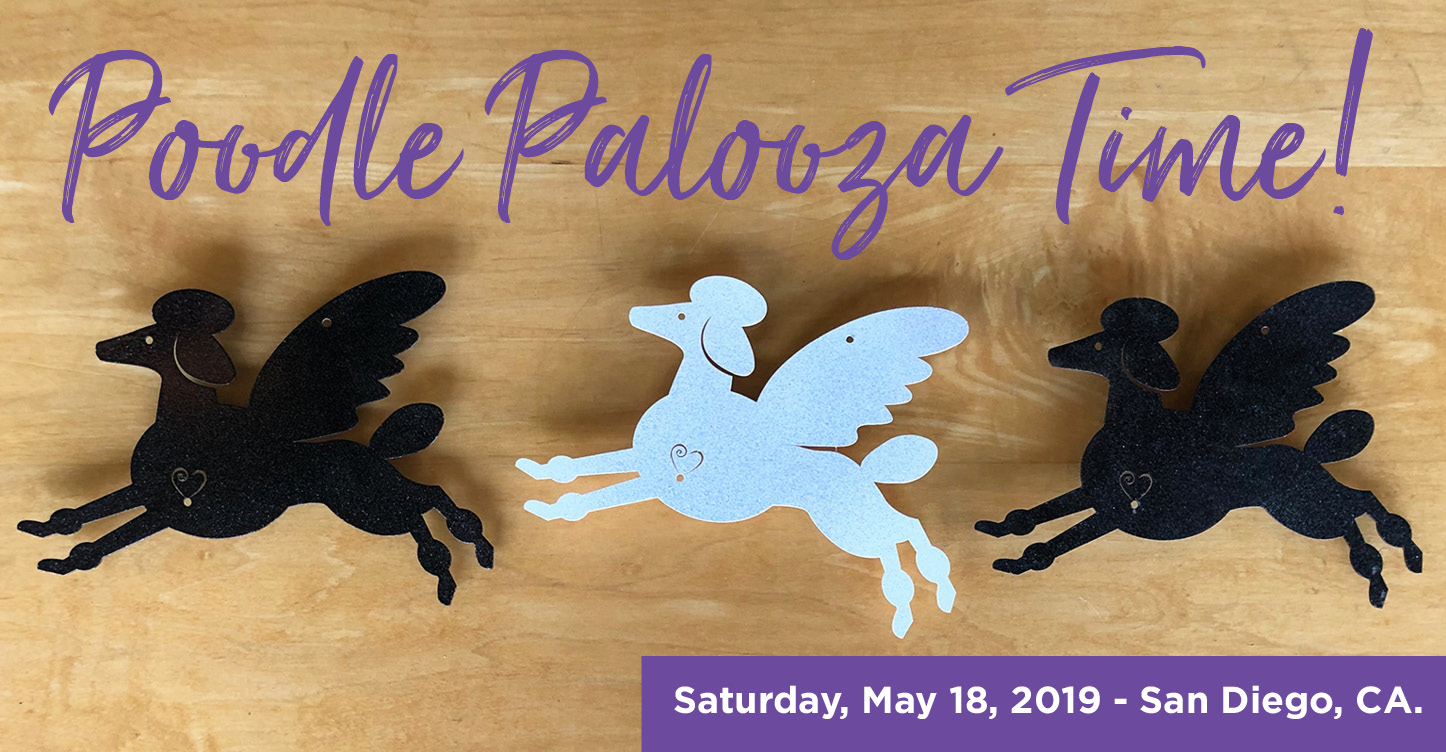 IT'S TIME FOR POODLES ON PARADE!
Yesssssssss! It's time for Poodles on Parade! What more can you ask for?
This upcoming Saturday, May 18 will be a big deal for all-things-Poodle, and you Poodle worshipers will be in Poodle Heaven. And…I heard the Inland Poodle Empire will be in da house!
Woof!
If you're in the San Diego area, you have to check it out! It's a quarter mile Poodle Palooza Parade!
And guess what? My pals from OMG PetArt will be there at the Poodles on Parade at Webb Park in San Diego. Woo hoo!!! Lots of Poodles, lots of fun, for all you pet lovers out there, it's all the Poodles you could worship for the day.
So, get over to Webb Park in San Diego and check out the parade. Everyone loves a parade!
Here's where it's located:
Webb Park
16826 Bernardo Center Drive
San Diego, CA 92128
Unfortunately for you, my dear reader… yours truly will not be there. Nope. However, my pet humanz will be there representing.
They'll be there with a bunch of mobiles and poodle angels, these things are the perfect gift for someone who just got a new rescue, new pup, or if their beloved Poodle has crossed the rainbow bridge. No matter how you look at it, they're great Guardian Angels for poodle lovers everywhere!
Plus, for each Pet Angel that is purchased, we will make a donation to Arizona Poodle Rescue.
Also, there are these really cool Poodle ornaments that make great gifts for Christmas or to replace the mistletoe with. Take a look, click here Think of it as a better reason to get frisky during the Holiday season.
And, wait till you see the Poodle Pillows we've got now. Yeah…you'll howl at the frickin' moon!
Anyway, here's a little background on the Poodles on Parade from the San Diego Tribune: https://www.sandiegouniontribune.com/pomerado-news/rancho-bernardo/story/2019-05-08/poodles-on-parade-returns-may-18
Okay, okay…there'll be other dogs there as well. All well-behaved dogs are allowed to participate. And that's great, we Spoos get along with all breeds. They'd be lost without our guidance.
So, hope to see some of you in San Diego on Saturday, May 18. Party on, Garth!!!
I'm ALWAYS large and in charge.
Rolo
Your Guardian Angel Pal!